Monday, November 29, 2021
Our friends at the Fat Quarter Shop are in the "let's have a sale" mood, too!
Be sure to follow these links and see all the great savings!!
Love,
Posted by

Snoodles
at 9:59 AM
0 comments

I hope you will check out the sales and discounts at the Accuquilt Cyber Monday event!
Yes, I will earn a tiny commission if you purchase there, but your price won't go up (NOT EVEN A SMIDGEON!), I promise!
Some of the best discounts of the year!!
Let the shopping begin!!
Love,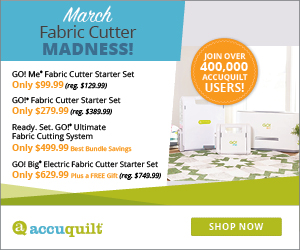 Posted by

Snoodles
at 9:52 AM
0 comments

Thursday, November 25, 2021
I hope that all of you are warm and well fed at this wonderful time that we set aside for thanking God for all of His blessings!

I'm so grateful for all of you who encourage me!
I'm thankful, too, for those around Mr. Snoodles and me, who are like-minded patriots, truly grateful for the blessings of this amazing nation!
This has been a difficult year for everyone. I'm praying for those I know who are facing unemployment and trusting God to help them.
Whether we are celebrating with family or with friends, or even if we are far from them, let's raise a cup of cider or a glass of tea and toast the men and women who keep our country safe - God bless all of our military who are all across this globe. Thank you for your service!
This year, I saw that Jacquelynne Steves had a special effort to help Convoy of Hope, a faith-based organization founded to help alleviate hunger. This seems like the perfect time to help them! Check out Jacquelynne's post and pick up her patterns that will result in 100% of funds going to Convoy of Hope.
Happy Thanksgiving, everyone!
Love,
Posted by

Snoodles
at 9:38 AM
2 comments

Friday, November 19, 2021
We quilters love our fabrics.
And our coffee.
Recently I took a deep breath and entered a contest. I wouldn't have been tempted into doing it, except that it was organized by my favorite coffee supplier. (Grin)
Mr. Snoodles and I are both aficiandos of light roast coffee. I know of some who want their Elixir to be strong and dark, but sometimes that tastes more like petrol to me. I fell in love with Cameron's Coffee when it appeared in the local grocery store. Their Breakfast Blend is my go-to, all day long!
The contest theme was "Cameron's in the Wild," and I had a sudden inspiration as I looked at the array of plants on our screen porch. One of them definitely brings "wild" to mind (well, actually wild and scraggly, but I digress).
Having a dog too large to add to the picture, and no resident Quilt Inspector Cat at this time, I resorted to a stuffed animal . . . a leopard, I think. Check this out:
The plant has always resisted my efforts to make it thrive, much less bloom. The lady who gifted it to me years ago had one that bloomed like this:
But mine has never, ever, EVER done that.
Still, it did look pretty jungle-ish.
I was so crazy busy that I didn't catch the email that trumpeted "YOU WON!" until two months had gone by. But the awesome people at Cameron's still sent my prizes! Six bags of my favorite, Breakfast Blend, and a cool shirt!
How awesome is that!
Needless to say, I'm sipping a cup of java as I write this post, and if you want to get some great coffee, look at all the flavors on the Cameron's web site, and head to your store (or order online)!!
Love,
Posted by

Snoodles
at 7:23 PM
3 comments